If you're anything like us you'll know the hazards of anti-perspirants (if not click
here
). So, we decided to put 2 natural deodorants up against 1 mainstream one. Not quite scientific but it's the best we could do.
We enrolled onto 2 intense fitness training courses (both of which lasting 1 day each) and put these bad boys to the test.
Deo #1: Weleda Citrus Spray
Rating:
4.5/5
available from
feelunique
for £8.50 (inc p&p)
Containing just 6 ingredients, we've got to admit that we were a little dubious. Did a few sprays promise to take Em through 8 hours of exercise? Could a natural deodorant do that?
Here it comes; the obligatory ingredients list breakdown
...
Denatured Alcohol:
In cosmetics denatured alcohol usually contains water and a bittering agent (such as denatonium benzoate) and another additive. In this instance it's just been ethanol (the alcohol part) and water. Ethanol is drying, which is why it's great in this product. It's shown to be safe to use but because it is drying it's one of those ingredients that should be approached with caution, and has been shown to be potentially dangerous when mixed with other ingredients.
For a great run down checkout futurederm's post
here.
Lemon Juice:
Full of vitamin C, citric acid, and B vitamins you'll all know that lemon juice is acidic and *warning* application of this deodorant will result in a mild stinging sensation sometimes (i.e. after a shower) that will go away after a short period of time. Used as a folk remedy for healing acne, it's also a great exfoliator, and this might be why it's used in the deodorant; by getting rid of dead skin cells that have been exposed to sweat you're more likely to feel fresher for longer, but that's just us hypothesising!
Lemon and Orange essential oil:
A detoxifier and antiseptic, these oils are great for keeping the skin healthy.
Glycerin:
while it is said to help moisturise the skin, it also draws moisture from your own dermis to your epidermis. In the words of the lady from truth in aging; "Your skin might feel moisturized, but you have just borrowed from Peter to pay Paul and ultimately it will get dryer. I also found plenty of references claiming that in order for
glycerin
to attract water from the atmosphere, humidity must be higher than 70%."
Clinical studies have shown that
glycerin
is more of a friend than a foe;
1 study found that high

glycerin

creams used over a five year period in people with very dry skin, resulted in a significant improvement in skin quality.
Another study found that when used by people with atopic dermatitis twice a week for four weeks, a significant improvement in the hydration of the outer layer of the skin and the skin's normal protective barrier was restored.
It's also been shown to helps skin cells mature properly and aid bruised and swollen skin
So what's going on with
glycerin
? as it turns out
glycerin
helps degrade the corneodesmosomes (proteins that help hold skin cells together), which in turn results in consisten desquamation (shedding the outer layer of the skin) and that, in turn, results in smoother looking skin. The question is whether our skin needs encouragement in exfoliation?
Here's the science bit; corneodesmosomes are specialised protein structuren that are a bt like rivets and they hold the corneocytes together. These structures are also a part of the "mortar" in the "brick and mortar" of the skin analogy. Corneodesmosomes are the major structure that must be degraded for the skin to shed in a process called desquamation (aka exfoliation). Interestingly we only understand parts of the desquamation process. Water and PH play a significant role but that's about all we know...
Ingredients: Alcohol denat; water, lemon juice, oils of orange, lemon, glycerin. Nominal ethanol content 71%.
Deo #2 SoapWalla deodorant cream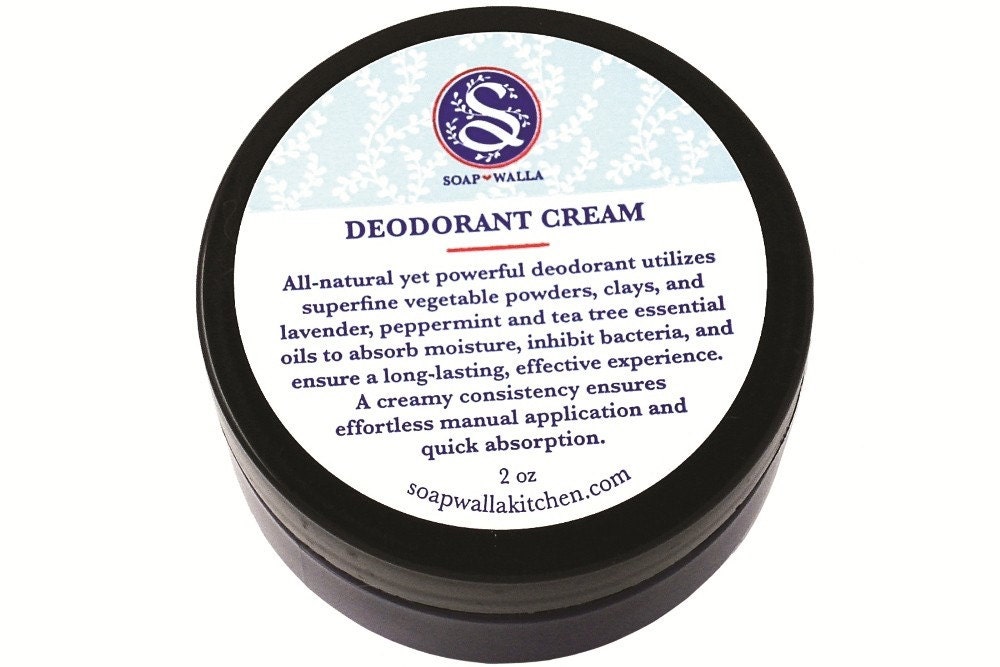 Rating:
4.5/5,
Available from
Beingcontent
for £13.80 (+p&p).
If you haven't heard of SoapWalla deodorant cream, where have you been? Featured in Vogue,
No more dirty looks
and by many a beauty website, this magic deodorant is applied like a cream and
glides on. The scent is quite mild and you only need to use a little bit. Just the right size to be tucked away into your handbag (or sportsbag) and taken around with you, SoapWalla is like magic.
It also only needed to be reapplied once and has an ingredient list that would make even the staunchest natural beauty fan swoon. Like the product description says "all-natural yet powerful deodorant utilises superfine vegetable powders, clays, and lavender, peppermint and tea tree essential oils to absorb moisture, inhibit bacteria and ensure a long-lasting, effective experience. A creamy consistency ensures effortless manual application and quick absorption". I think that covers our usual ingredient list. In terms of our use only one re-application was required.
Ingredients: Organic Simmondsia chinensis (Jojoba) Oil; Organic Helianthus Annuus (Sunflower) Oil; Organic Rosehip Seed Oil; Butyrospermun parkii (Shea) Butter; Organic Corn Starch; Sodium Bicarbonate; Kaolin Clay; Organic Vegan Kosher Glycerin; Essential oils of: Organic Lavandula Angustifolia (Lavender); Organic Melaleuca Alternifolia (Tea Tree); Organic Citrus Sinensis (Sweet Orange); Organic Mentha Piperita (Peppermint); Citrus Aurantium Bergamia (Bergaptene-free Bergamot).
Deo #3 Garnier mineral ultimate protection roll-on
Rating:
2/5,
available from most supermarkets and pharmacies.
The thing is that the cynics amongst you might find yourself thinking "well of course the garnier one didn't get a good review; it's a natural product beauty blog". But that really had nothing to do with it, firstly the ingredients list is so small that we honestly don't know what was in it and secondly we are scientists baby; we're all about trying to be as objective as possible.
Out of all of the deodorants, this one underperformed on duration of fragrance (really floral and ran out super fast), left L's poor armpits soaking and had to be reapplied so often that she kept it next to her waterbottle (sorry L).
But, you ask, which one would we choose personally?
So you've read the reviews and you may have noticed that SoapWalla and Weleda have the same score. So which one do we choose? Well, it's all got to do with your purpose. If you're in a situation where you're unlikely to have the time to smear cream under your armpits then the Weleda spray is probably your best option and it comes in a 30ml travel size for anyone interested in carrying it around with them.
But if you aren't super busy and quite like the smooth consistency of SoapWalla then by all means get the SoapWalla.
As far as the Garnier goes we were really disappointed, we were expecting to have to write a meager review on the natural alternatives and justify why they wouldn't match up. But to our delight that just wasn't the case. Go natural or Go home . . .or just stick with what you're happy with - we just wanted the opportunity to sound as hardcore as our fitness trainer.
Lots of Love,
Em, L & Layla
X